Want to wake up to panoramic views of the North Devon coastline, but not so keen on tackling a bag full of tent poles?
We've got you covered with our range of glamping options that'll ensure you're waking up in complete comfort whilst enjoying a weekend at the coast…meaning you get all of the festival feels without a guy rope in sight!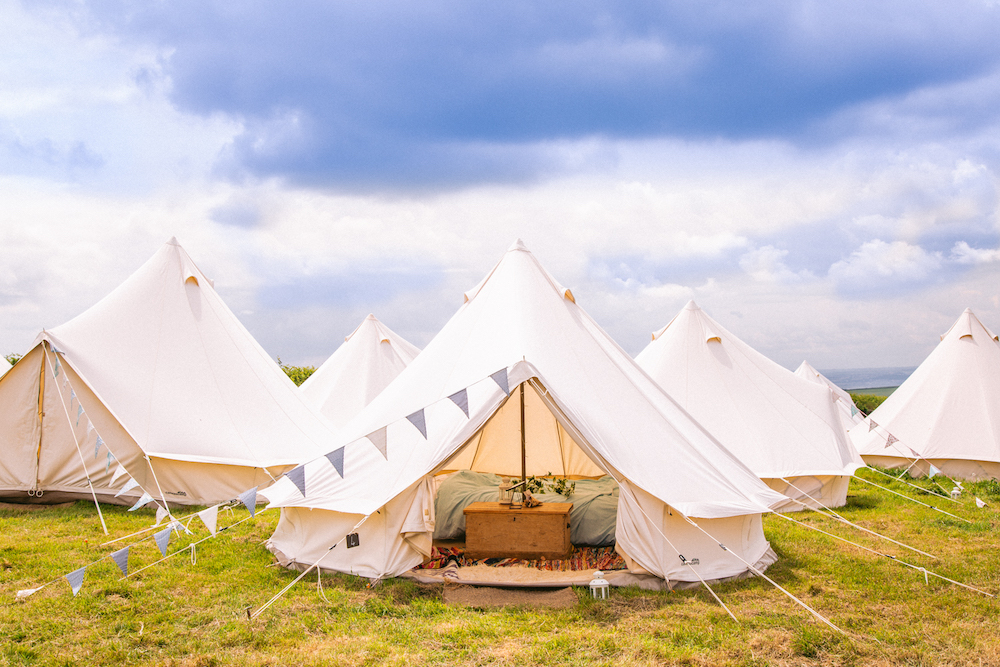 Glamping Options
Unfurnished Tents
The unfurnished bell tents are super simple, they're a "ready to go" solution, and don't include bedding etc, so make sense for a more budget option if you're up for a "walk in solution", don't want the faff of setting up camp when you arrive on side. Inclusions below:
– Includes the tent and zipped in ground sheet only (i.e. no beds!)
Unfurnished Pricing and Options
4m bell tent- £222
5m bell tent – £264
n.b. Unfurnished tents do not include any beds – so you will need a roll matt / sleeping bag / pillow etc i.e. whatever your creature comforts are!
Furnished Tents
The furnished tents are for those who want to ensure that all comforts are taken care of, the inclusion on a furnished tent are:
– Fleece mattress toppers or throws
– Bed Linen (sheet, duvet, duvet cover, pillow and cover (1 x single, 2 x double)
– Colourful cushions on each bed
– Bright Indian rag rugs and cosy sheepskin style rugs
– Vintage low central table or trunk
– Fairy lights & decorative Ivy trailing down the centre pole & LED lights
– Outside bunting & lanterns with battery led candles
– Fire extinguisher
– Airbed, pump & spare airbed
– NB. Towels are not provided, and if you have an
Pricing and Options – Furnished 4m bell tents
4M Furnished (1 Double) – £312
4M Furnished (2 Singles) – £330
Pricing and Options – Furnished 5m bell tents
5M Furnished (1 Double, 2 Singles) £438
5M Furnished (2 Doubles) £420
5M Furnished (4 Singles) £456
Sleeping Options
N.b – Upon booking you will be asked your preferred bed set up that will be ready on arrival.
Options for 4m tents: 1 double bed OR 2 single beds
Options for 5m tents: 2 double beds OR 4 single beds OR 2 single beds and 1 double bed
Things you might want to bring
Please note that towels are not provided and the Bell Tents do not have power, so you might want to bring a battery pack etc to charge your phone, and your own torches (head lamps) etc. Travel Cot if you have a little one.