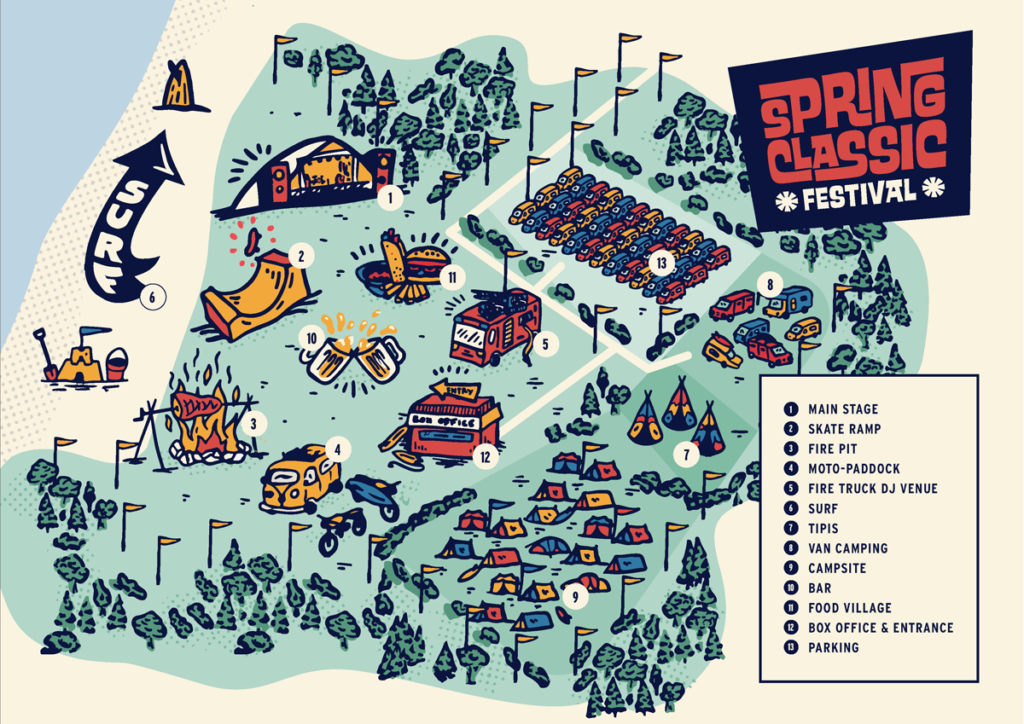 CORONAVIRUS POLICY & MEASURES
What measures will be taken against the spread of Coronavirus?
We are closely monitoring the changing situation, and will adhere to government guidance at the time of the event. We will inform you of our COVID 19 Policy at least 4 weeks prior to the event starting, in order that we can draw upon the latest public health regulations.
FESTIVAL FAQs
2023 Early Bird Bookings
Event dates subject to event licensing and may be subject to change. In the event of alteration or cancelation a refund or transfer will be offered at no charge.
Will there be space for social distancing?
Yes. Regardless of the government guidance prevalent at the time, the arena will feature sufficient space that customers can socially distance.
Can I bring my Pet?
No animals are permitted onto the site, including car parks. The only exception is assistance dogs for customers with a disability. Such assistance dogs must be registered with a national organisation.
Am I allowed to bring alcohol into the festival site?
You are allowed to bring alcohol into the camp site only, not the festival site. See the below campsite FAQs for more information.
What are the opening times?
For campsite ticket holders: 10am Fri 26th May to 11am Monday 29th May
For day ticket holders:
Friday – Arena opens at 1700 – 01 00
Sat 28th – 1000 – 0100
Sun 29th May – 1000 – 0000
Can I leave the site and re-enter?
Yes. You can leave via the main gate and re-enter at any time. You must retain your festival wristband, as you will not be permitted to re enter without it. N.B there will be a £5 re-entry charge for any cars leaving and returning to the festival site.
How can I get to the festival?
Parking is provided, you must purchase a car park pass . Alternatively, local busses stop within walking distance in Woolacombe. You may also get a lift from a taxi, friend, or relative. A dedicated "pick up and drop off" area is provided.
Where is the festival site?
Address: Woolacombe Down, EX34 7HL
Can I camp?
Yes. You must purchase a weekend camping ticket. Please also read the Campsite FAQs.
Can I bring my motorhome/campervan?
Yes. You must purchase a live-in vehicle ticket. Please also read the Campsite FAQs
Can I bring a Caravan?
No. Only live-in vehicles are permitted.
Can I sleep in my car?
No – it is not safe to do this on site.
What should I do if I feel unwell?
Please contact the nearest member of staff wearing high visibility clothing. They will escort you to our medical team.
What should I do if I witness crime, disorder, or something else that concerns me?
Please contact the nearest member of staff wearing high visibility clothing. They will contact our security team who will resolve the situation
What are the provisions for persons with additional needs?
Blue Badge Parking is available close to the entrance. Accessible toilets are present in both the arena and campsite. If you have further accessibility requirements, please contact [email protected] and we will endeavour to accommodate them.
See below for additional accessibility information, and free passes for aid workers / assistants etc.
I'm planning to bring children to the event, is that OK?
This is very much a family friendly festival, so yes – children are allowed.
Across the site we are operating on an adult supervision to child ratio of 1:3. i.e. 1 adult to a maximum of 3 children. So if you are a single parent for 4 or more children we request that you attend with additional adults for childcare support, inline with our site rules and regs.
How can I make payments at the festival?
All food, bar, and retail outlets will accept card payments – however due to the remote nature of the venue it is also advisable to bring some cash. Please note we do not provide cash machines at the festival.
Do you offer military of NHS worker discounts?
Yes, we do – email [email protected] with your proof of employment, and we will return an up to date discount code for you to book.
What should I do if I have a question or complaint?
In the first instance, please approach our staff at the main gate who will deal with your query. In an emergency, approach the nearest member of staff anywhere at the festival.
Are all the activities in the arena included with my ticket?
Most activities as per listed on the website are included with the ticket, however for specific events and activations there may be a small fee onsite which will be made clear at the time of sign up.
CAMPING RULES
What am I not allowed to bring to the campsite?
See event list of prohibited items
Can I bring food or alcohol into the campsite?
Upon your first entry into the campsite, you can bring a limited amount of food or alcohol for personal consumption. The permitted quantities are shown here: Either 1 crate of beer/lager/cider OR 1 litre of wine OR 12 cans of pre-mixed spirit and mixer, per person
No glass
No straight spirits
Alcohol only permitted on first entry to the festival campsite
Can I put up a gazebo?
No. Due to the limited size of our campsite, there is not sufficient space for gazebos.
Can I put up an awning beside my live-in vehicle?
No. due to the limited size of the campervan area, we do not allow awnings. Unless it explicitly fits within your designated 6m x 9m pitch space.
Can I bring my caravan?
No. Only campervans are permitted
What is the size limit for a campervan?
Your campervan ticket space is 6m x 9m. This will be big enough for a small campervan, e.g. VW Transporter or Ford Transit Custom. It is up to you to have a clear understanding of the scale and size of your set up, if you encroach into the neighbouring spot you will have to purchase a 2nd slot whilst on site.
I'm staying in a tent, am I allowed to use cooking equipment?

You are permitted to cook on small gas camping stoves in the campsite. These must be placed on a firm and level surface, not on the grass (for example, a small camping table). Gas bottles must be under 1kg. You are not permitted to use BBQs or cook over charcoal/open fires. Please familiarise yourself with the location of fire extinguishers.
I'm staying in a campervan, am I allowed to use cooking equipment?
You may only use built-in, professionally fitted cooking appliances with liquid fuel such as LPG.
Are campfires allowed?
No. Due to fire safety restrictions, open fires of any kind are not allowed
Can I park next to my tent?
No. All cars must remain in the car park – which is located close to the campsite. If you want to park and camp you must purchase a van / campervan ticket.
Are there showers?
Yes. Free hot showers are available to campsite ticket holders. Due to the remote nature of the site, shower facilities are limited. Please bear in mind there may be a queue for these facilities at peak times (mornings). Please consider other guests and limit your shower time to 5 minutes.
Are there washing up facilities in the campsite?
There will be no hot water washing up facilities in the campsite. If you need this facility for plate washing/babies bottles etc then we recommend self-boiling water, and managing your own washing bucket.
Where can I find drinking water?
Drinking water points will be available in both the campsite and arena. You should bring your own bottle or container.
What should I do with my rubbish?
Please bring any waste to the collection points in the campsite, or use the bins provided around the site.
WHAT AM I NOT ALLOWED TO BRING TO THE FESTIVAL?
Glass (of any kind).
Any item which may reasonably be considered for use as a weapon (including penknives and cutlery)
Personal portable toilets (unless in combination with a van / caravan ticket)
Camping gas canisters above 1kg
Firewood and charcoal
Generators of any kind
Bean bags & inflatable chairs / loungers (they can blow away in the wind – and it can get windy.)
Paint spray cans
Laser equipment or pens
Fireworks / flares
Smoke canisters
Chinese lanterns
Klaxons / air horns / megaphones (or other similar items capable of making loud noise)
Personal motorized vehicles (unless a mobility scooter)
Any animals (with the exception of assistance dogs, are not permitted at any time)
Drones
Large sound systems
Unauthorised or professional photography, film or video equipment
Excessive amounts of alcohol – You are allowed to bring in your own alcohol (for personal consumption in the camping area only, not the arena area) but only up to reasonable amount per person. Once you have entered the event you cannot re-enter with more alcohol supplies.
High visibility bibs and jackets
Poles, banners and flags (small static flag poles in the campsites are allowed)
ILLEGAL SUBSTANCES:
We operate a zero tolerance on drugs/legal highs. Laughing gas is illegal and will not be tolerated
Please also note you may be searched on entry to the event site. Any items that may be used in an illegal or offensive manner will be confiscated. No responsibility is given for the return of confiscated items. If you are in possession of illegal substances you may be arrested.
ACCESSIBILTY
The Spring Classic is located on Woolacombe Down, a beautiful National Trust site, just off the stunning coastline of North Devon and overlooking the picturesque Woolacombe Bay. While beautiful, the terrain contains a lot of grassland and hilly areas which when the rain comes, can make access around the site difficult. For any wheelchair users we strongly recommend use of an all terrain chair, and ensuring that you have a strong and able support carer
We endeavour to be a festival that everyone can enjoy, and to provide an event site which is as accessible as possible to everyone. The use of disabled access facilities is reserved solely for the use of permanently disabled customers and unfortunately not for those with broken legs, recent injuries and/ or pregnancies.
Accessible Toilets: There will be accessible toilets within the main arena and campsite
Accessible showers: Will not be available
Accessible information points: Located in the main arena
Assistance Dogs: We welcome any registered assistance dogs at Spring Classic, please email [email protected] to register, and discuss criteria.
Parking
Parking tickets are available online, with Blue badge holders not needing to buy a festival parking ticket but must register for disabled parking on the by emailing [email protected] The accessible carpark is limited so friends/ family arriving in separate vehicles will not be able to use this car park.
CAMPSITE FACILITIES
Wheelchair accessible toilets
Stewards on hand, offering assistance where necessary
Along with yourself and PA/ carer you can have an additional two other people who are able to camp with you in this field.
FREE PASSES
We provide a free personal assistant ticket to customers who are unable to attend The Spring Classic festival without the aid of a designated person.

In order to be eligible for a complimentary PA ticket you must have already purchased a ticket and supply ONE of the following pieces of evidence with your application:
Receipt of Personal Independence Payment (PIP)
Middle or higher rate DLA for care and/or mobility
Evidence of being severely sight impaired
CredAbility access card with a +1 category requirement
A recognised Assistance Dog ID card
Medical / Doctor's letter (dated within the last 12 months)
Award disablement pension card
If you require the assistance of a dog, please email [email protected] children under 16 years old are not eligible as carers/personal assistants.